Hello! I'm Rosepetal, little flower fairy in charge of all of the red red roses, and hostess of this place. Thank you for coming to visit with me. I am a little bitty thing most of the time, just 3 inches high with pretty iridescent wings. Only right now I am big, so I can make this place faster, and so I talk so you can understand. 'Cause when I'm little, my brain is little, but when I'm big, like I am now, I can make you understand me better.

Taking care of the roses is a very important job, which is why a different fairy is assigned to be in charge of each kind of rose. I have a large group: the red roses. There are a lot of fairies under my management in this rather large undertaking, all over the world. We help roses create new bushes, for which a fairy is assigned as soon as it begins to peek out of the ground. We protect the tiny buds from the elements, and encourage them to grow. And when the flowers are ready to bloom, we kiss the buds and they open, releasing their beautiful rose scent into the air. Then we start again, guiding the bees to the best flowers, and helping new bushes grow all around.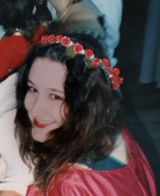 Taking care of the red roses is not only our job. The roses also give me everything we need. When we've been working hard, and the fairies are sleepy, we curl up on a leaf, or inside a warm, soft rose for a nap. When the roses have delivered their pollen and begin to drop their petals, we use those petals to make cute little dresses that smell just like our roses. And when we or our roses are threatened, we use the thorns for protection.

So when you pick roses for your sweetheart, or begin to grow your own bushes around your home, just remember to be kind, and leave some for the fairies, so that fragrant roses of beautiful red will be there for your children and your childrens' children.